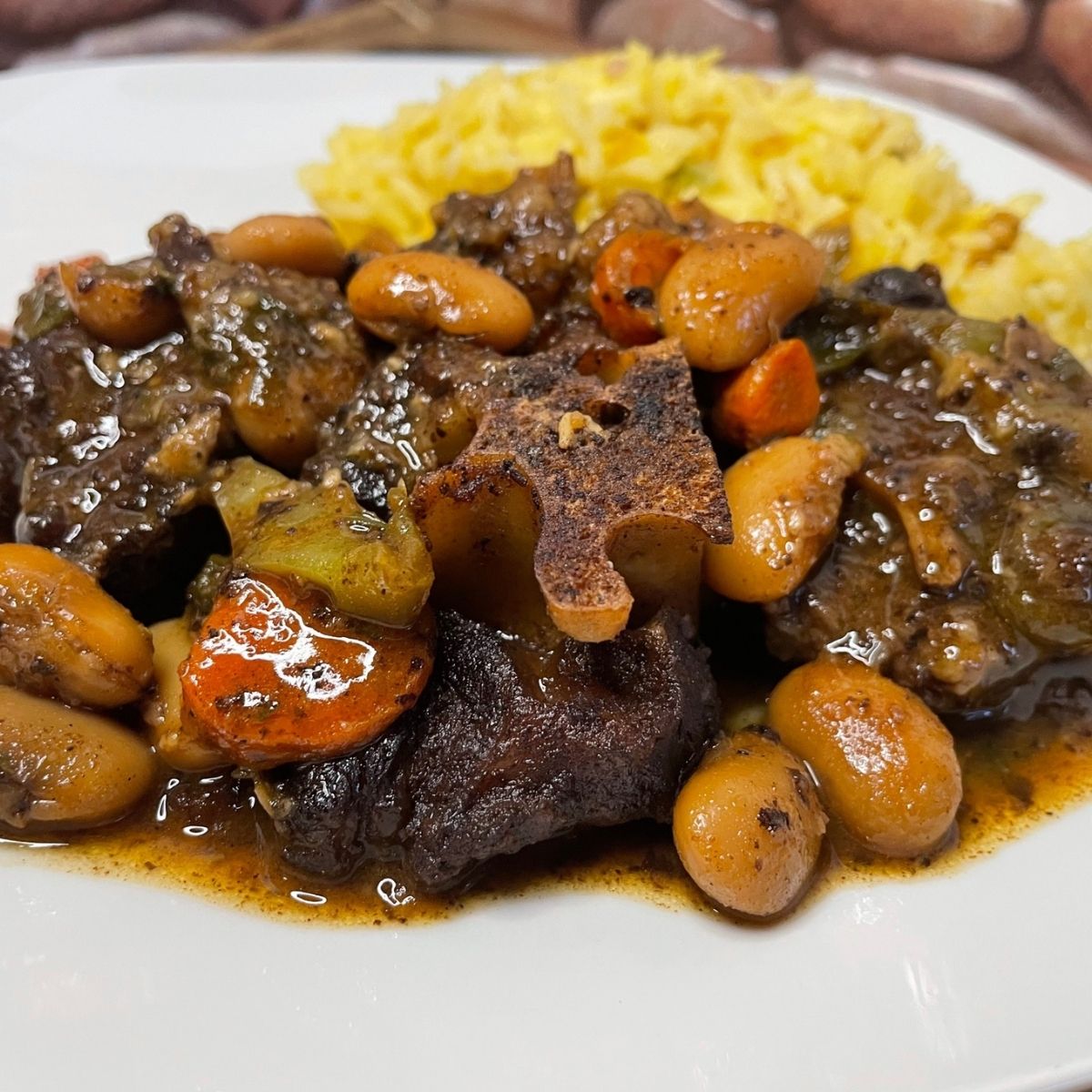 Being overpriced is an understatement when it comes to ordering a plate of Jamaican Oxtail with Butter Beans. But we can all attest that this is a delicious meal.
Maybe a year ago, you could get a large plate of oxtail for about $15-$18.
But now it is at least $25 per plate. Not to mention, most Jamaican restaurants have eliminated the small and medium option for this dish. The saddest part of this whole inflation is that they are now charging for oxtail gravy. Luckily, we can make our own delicious oxtail stew.
Why is Jamaican Oxtail with Butter Beans so Expensive?
Butter beans on one hand are super cheap. You can find them either dried or canned in almost any grocery store for about $1. Oxtail on the other hand is a very expensive item, with so little meat. 
Personally, I do not know the real reason behind the high price, but what I can attest to is the deliciousness of this dish.
How to Make Jamaican Style Oxtail? 
The ingredients for the Oxtail and Butter Beans is essentially the same of any Jamaican stew, namely Brown Stew Chicken. The only difference is of course the cooking time.
Oxtail takes at least 3 hours to cook on the stove top, but you can use a pressure cooker to reduce the cooking time. 
Jamaican Oxtail and Butter Beans Ingredients Breakdown
Oxtail - this is a delicacy to Jamaicans, whether it be brown stew or curry oxtail.
We cannot get enough of this protein despite it having so little meat. Oxtail is rich in protein and calcium from the bones. Oxtail meat is very pungent and flavorful when cooked and can be used to make either soups or stews.
Butter Beans - there are a variation of white beans that Jamaican use in stews and curries but mainly butter beans and broad beans. Jamaicans use these beans as a way to stretch the food to feed more people. However, it has just become a traditional dish. 
Two of my other recipes that use butter beans are my Jerk Oxtail recipe and Instant Pot Jamaican Tripe and Bean.
Pimento - otherwise known as allspice berries, pimento is a main ingredient in Jamaican dishes, whether savory or sweet. Pimento can be found grown in most tropical countries and resembles black peppercorn. 
Browning - this sauce adds color to Jamaican stew dishes and even desserts; mainly Jamaican Rum Cake. Browning is made by literally caramelizing brown sugar in a little oil to create a brown liquid.
Scotch Bonnet - native to Jamaica, this is one of the hottest peppers in the world. Depending on how much or how little you use the flavor if the dish will change. However the seed and the stems are the hottest parts of the Jamaican scotch bonnet pepper. 
Spices for Jamaican Oxtail with Butter Beans
There are almost never two identical Jamaican dishes, as each person makes their stew with their own twist. However, there is no limit to the amount of spices used to make your own Jamaican Style Oxtail Stew. 
Below is a list of a few of the spices I use:
Learn how to make authentic Jamaican Oxtail With Butter Beans, with simple step by step instructions below!
Jamaican Oxtail with Butter Beans
Authentic Jamaican Oxtail Stew
Equipment
Pot

Wooden Spoon

Knife

Cutting Board

Mixing Bowl

Strainer

Tongs
Ingredients  
2

Pounds

Oxtail

Cleaned

1

Cup

Cooked Butter Beans

2

Teaspoons

Salt

6

Whole

Pimento

1

Teaspoon

Black Pepper

1

Teaspoon

Smoked Paprika

1

Tablespoon

Browning

½

Bell Pepper

Chopped

1

Small

Yellow Onion

Chopped

6

Cloves

Garlic

Chopped

1

Teaspoon

Scotch Bonnet

1

Medium

Carrot

Chopped

3

Stalks

Scallion

Chopped

3

Sprigs

Thyme

Water

as Needed

2

Tablespoons

Vegetable Oil
Instructions 
Add the cleaned oxtail to a boil and add salt, pimento, black pepper, smoked paprika and browning.

Use your hand or a large spoon to massage the spices onto the oxtail meat.

Set aside until ready to cook.

For maximum flavor, marinate overnight.

Place a thick pot on medium heat and add vegetable oil.

Once the oil is heated, add each piece of oxtail flat, and brown for at least 5 minutes on each side.

Remove the browned oxtail from the pot and discard the remained oils.

Add the browned oxtail back to the pot and add enough water to cover the oxtail and cover.

Cook on medium for 2 hours and 30 minutes, stirring occasionally and add water as needed.

This step may take longer depending on the size of the oxtail pieces.

After 2 and a half hours, add bell peppers, yellow onions, thyme, garlic, scotch bonnet, carrot, scallions and butter beans.

Simmer for another 30 minutes or until the desired sauce consistency is achieved.
Notes
How to Clean Your Oxtail
Start with trimming any excess fat from the oxtail pieces and add to a bowl a cool water. 
You may add a little vinegar or lemon juice and allow the oxtail to sit for a few minutes.
Rinse a couple more time with cool water and drain properly before adding any spices.