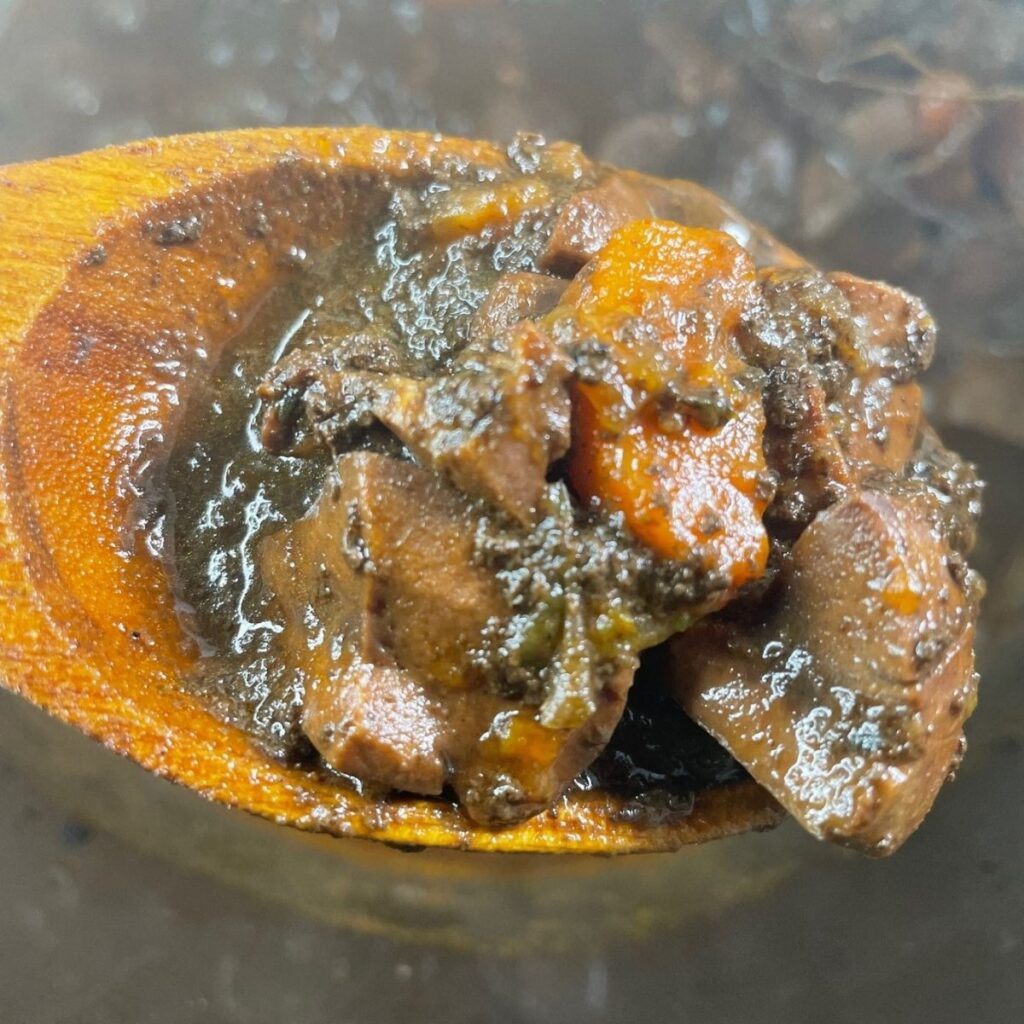 Unlike cooking on the stove top, this Instant Pot Beef Kidney recipe will surely cut your cooking time in half. Traditionally, Jamaicans tend to season their meat over night and I personally would recommend this. My stove top beef kidney recipe would take up to 2 and a half hours but this Instant Pot Beef Kidney recipe will be done within an hour.
Can You Eat Beef Kidney?
Beef kidneys are a lean edible organ meat that provide some important dietary nutrients. Although not commonly eaten in the United States, much of the world considers kidney meat a delicacy. Beef kidneys may be served alone or as additions in other dishes, such as this Jamaican Instant Pot kidney stew.
Does Beef Kidney Taste Good?
When served rare, as it is in some countries, beef kidney has an acquired taste that some may not find inviting. But when cooked until well done in a stew, as it is here, kidney is quite mild in flavor. Personally, I have seen kidney cooked two ways, stewed and jerked, and both have quite a different mouth feel.
Are Beef Kidneys Healthy to Eat?
Rich in nutrients and proteins, kidney meat contains omega 3 fatty acids as well as a rich source of iron. It is also known to contain anti-inflammatory properties and to be good for the heart.
Can I Feed My Dog Instant Pot Beef Kidney?
Yes they can! Beef kidney is an organ meat which is the most nutrient dense part of the animal and considered part of the natural diet of wild canines.
Should you Cook Organ Meat for Dogs?
Many people serve their dogs raw organ meat as part of a raw diet. However, it is perfectly fine to cook . The simplest way to prepare organ meats is to boil them, but you can steam them with other meats and vegetables.
Instant Pot Beef Kidney
Same great taste in half the time
Equipment
Instant Pot Pressure Cooker

Wooden Spoon

Measuring Cups

Measuring Spoons

Mixing Bowl

Knife

Cutting Board
Ingredients  
1

Whole

Whole Beef Kidney 

Cleaned

1

Tablespoon

All Purpose Seasoning

1

Small

Onion 

Sliced

1

Medium

Carrot

Chopped

3

Cloves

Garlic 

Chopped

1

Teaspoon

Scotch Bonnet Pepper 

Chopped

1

Sprig

Thyme

6

Whole

Pimento

2

Tablespoons

Jamaican Browning

1

Tablespoon

Coconut Oil

1

Cup

Water

2

Tablespoons

Ketchup

or tomato paste
Instructions 
How to Cut Beef Kidney
Place the beef kidney flat on a cutting board and use the tip of a knife to remove the meat from the inner white piece.

Once all the flesh is removed, cut into ½ inch pieces.
How to Clean Beef Kidney
Place the cut beef kidney in a bowl, along with some cool water and a splash of white vinegar.

Use a spoon or your hand to move the kidney around then allow it to sit for at least 5 minutes.Rinse with cool water and drain.
How to Season Beef Kidney
Use your hand or a spoon to mix all the ingredients together. Allow the meat to marinate for at least 30 minutes, but overnight is always best.
Cooking Beef Kidney in the Instant Pot
Turn the instant pot on to the saute option for 5 minutes and add the coconut oil

Once the oil is heated add the seasoned beef kidney and allow the meat to fry for 5 minutes, stirring in between.

After 5 minutes, turn the instant pot off then set to pressure for 30 minutes.

Add the cup of water and stir before covering the instant pot and sealing the vent. Allow the beef kidney to cook for 30 minutes.

Once the timer is up, use the natural release method for about 5 minutes before opening the vent.

Turn the instant pot back on to saute for another 5 minutes. Add ketchup or tomato paste to thicken the sauce while it simmer.